Rohun Rajpal
Eastchester resident Rohun Rajpal, HBMS class of 2018. Rohun attended Hackley School in Tarrytown, NY for middle and high school and is currently a senior at Brown University where he is studying Applied Mathematics. He joined HBMS in 2006, was an Honors Program student, and was selected as a violinist for the 2018 National Youth Orchestra of the USA.
Tell a bit about your early experiences and interest in music. When did you start at Hoff-Barthelson?
Both my parents grew up in India and neither of them had a formal musical background or much knowledge of western classical music. However, they are both great lovers of music and always played a variety of recorded music of different genres in our home. When I was a preschooler, my parents got me a simple computer game from the Museum of Modern Art gift shop that taught basic music concepts to kids using themes from Tchaikovsky's The Nutcracker. I began spending inordinate amounts of time listening to the music in the game and trying to advance from the game's virtual room to room by picking out which four instruments were playing in the excerpts from The Nutcracker in each room. Whenever the violin played, I felt it was speaking to me and was very much drawn towards the sound. I also had a toy violin which I loved that auto-played snippets of classical pieces when I pressed various buttons.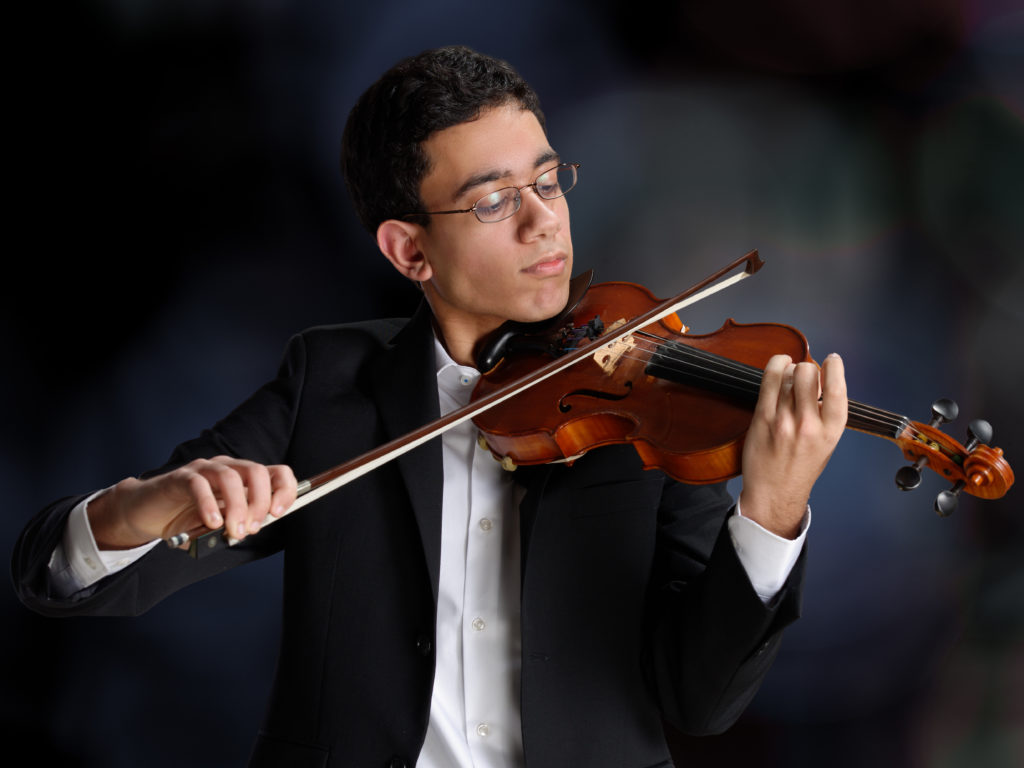 When I was six, I asked my parents for music lessons, so they brought me to Hoff-Barthelson where we met with Dean Emerita Ruth Alperson for an initial evaluation. I vividly remember that the student in Ruth's office ahead of me happened to be playing the very same Bach piece that my toy violin had played! When it was my turn, Ruth showed me how to play Hot Cross Buns on the piano. There was some thought that I might study piano because my mom had observed that I tended to run towards pianos whenever I saw them at social events and try to play them, and also around that time I had a fine motor deficit that could have made playing a stringed instrument very frustrating at first. However, when Ruth asked me what instrument I would prefer to learn, I insisted on the violin!
Over the next 12 years, I made my way from Suzuki's Twinkle, Twinkle Little Star to my senior violin recital where I played Paganini's Cantabile, the first movement of Prokofiev's Sonata 2 in D Major, Sarasate's Introduction and Tarantella, and Mendelssohn's Violin Concerto in E Minor. To this day, it remains one of my most cherished musical experiences as not only had I loved the repertoire I was playing in that recital for years, but I also had one final opportunity to play in front of many members of my family, close friends, and teachers at the same time.
Who was your violin teacher at Hoff-Barthelson?
Ruth assigned me to Mark Kushnir, and I could not be more grateful. I studied with him during my entire time at Hoff-Barthelson. I was in the Suzuki Program initially and then moved on to the Honors Program where I explored the broader classical repertoire. He took great care with the sequencing of my instruction, always going at just the right pace and giving me the building blocks to succeed.
Mr. Kushnir is incredibly generous with his time (he always made himself available when I needed it, even after I graduated from Hoff-Barthelson), and he's a terrific communicator. As I became more advanced, he would send me a variety of recordings of the pieces I was working on, some of which were very different.
He encouraged me to listen closely to each interpretation and involved me in determining how I wanted to interpret the music myself. He would often mark the sheet music with different possible bowings, fingerings, or inflections and let me decide how to proceed, but made sure I was consistent after picking my interpretation.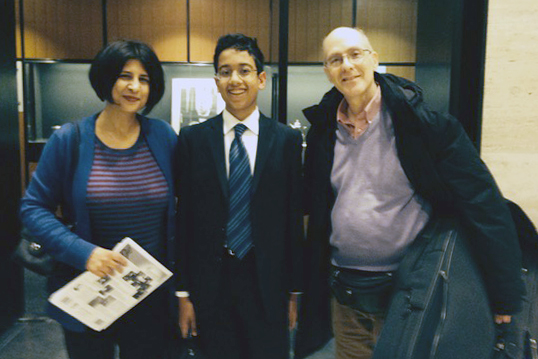 To help me understand the expression of music, as well as the technical aspects, Mr. Kushnir sometimes made me sing phrases from the pieces I was playing with made up words to help me understand where the meaningful points might be. He helped me think about and find the emotions in a piece and equipped me with the skillset to execute my choices. His guidance was also invaluable in helping me to prepare for and succeed in auditions for various regional and national music festivals and competitions.
Did you have other experiences at Hoff-Barthelson? Other teachers?
My Suzuki classes, which I took from the beginning of my time at Hoff-Barthelson until 5th grade, were with Barbara Berg and the late Elektra Stewart. Because I was playing with other musicians, the Suzuki classes were the beginning of my understanding of how ensembles collaborate. I also gained experience here performing in front of large groups of people. Because I started performing young, I lost any nervousness about this quickly.
I began participating in chamber ensembles in 4th grade. My first chamber experience was playing a Haydn piano trio where the pianist and cellist were stronger and more experienced musicians than me. At first I was lost and I remember feeling completely out of place and terrified after the first rehearsal, but my coach, Gary Kosloski, gave me great feedback on how to be a better ensemble player. I learned to subdivide the rhythms and adjust myself to whomever had the musical line. This helped the music make a lot more sense, and within a few weeks I had the hang of it. Over the years I was in many varieties of chamber groups with other strings and with pianos, clarinets, and flutes. All my coaches were fantastic, particularly Donna Elaine and Gerald Robbins. Mr. Robbins had wonderful anecdotes about the composers and helped us connect our piece with other pieces and with the larger world. I appreciated his depth of knowledge of the history of music–he was a big influence on my music nerdiness in the best possible way.
I also participated in HBMS's Symphonette and Chamber Orchestras while I was in elementary and middle school, and joined the Festival Orchestra in 8th grade and played there for five years with our incredible conductor Jun Nakabayashi. He opened my eyes to the word of symphonic repertoire and how orchestras should work. Festival Orchestra was a fun antidote to any stress I might have felt with my academics.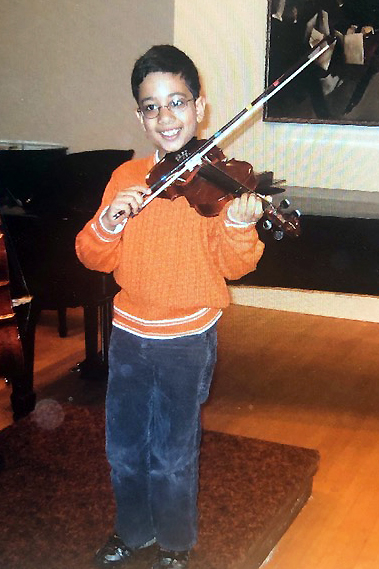 In addition to performance-based experiences, I also took musicianship classes with Yukiko Konishi when I was in elementary school. This is where I learned how to read music, since most of the Suzuki method is about learning to play by ear. I also took many Dalcroze Eurhythmics classes, which were easily the most fun part of my week. At the time, I might not have known why I was there, but looking back I realize it gave me a real fundamental understanding of music. By using movement, Dalcroze helps you put the feeling of music into your body. Putting the ear training, note reading, and emotional elements together in one place deepened my appreciation of music. I later took several music theory classes with the late Edmund Niemann, whose classes were often the highlight of my entire week. He offered a world of knowledge and inspiration and taught me the fundamentals of music theory and prepared me extremely well for the AP Music Theory exam. Additionally, I was lucky enough to take the post-AP Music Theory course Chopin to Ligeti with Eleonora Rotshteyn, who offered me and my classmates the opportunity to choose a lot of the repertoire we would analyze in the class, subsequently leading me to more closely analyze the scores of pieces I was playing.
Another part of my musical training at HBMS that I found to be extremely helpful for my development was the various master classes with renowned musicians that the school arranges from time to time to enrich the students' learning.
Did you form other relationships at Hoff-Barthelson in addition to those with your teachers?
Absolutely! Music at Hoff-Barthelson became one of the biggest parts of my social life with my primary friend group, especially in high school, consisting of many people I had met and grown up with at Hoff-Barthelson. I enjoyed my chamber ensembles and Festival Orchestra as much for the social experience as the musical experience.
What are you up to now?
I am a senior at Brown University, majoring in Applied Mathematics. I've had internships during the past several summers in various finance related roles at hedge funds, private equity firms, and banks. I might go to grad school later but immediately after I graduate, I'd like to work in the finance industry. I will be starting off by working in Bank of America's Global Sustainable Finance Group, which I'm extremely excited about.
I've been fortunate to be able to include music in my time at Brown. I joined the Applied Music Program, which consists of lessons and performance opportunities, and I've been in one or two chamber ensembles each semester in addition to playing in the Brown University Orchestra. Playing and performing was much harder during the pandemic, but I was able to create recordings with some of my college ensembles through virtual collaboration. This doesn't compare to playing in person, but it did allow me to continue making music with my friends.
I've also spent time during college, particularly when I was at home during the first part of the pandemic, doing deep dives into classical music. I've listened to countless recordings on Spotify and YouTube, educating myself and forming opinions about players and pieces. I've shared a lot of what I've learned with my parents and friends, showing them the different types of music that move me. Time spent playing my violin and learning more about classical music during the pandemic have been a key and enjoyable mental health break for me.
Rohun Rajpal performs Henryk Wieniawski's Concerto No. 2, Allegro Moderato.

Rohun Rajpal performs César Franck's Violin Sonata, Allegro.