Music classes to delight young children 9 months to 5 years of age
Most young children naturally respond to music—listening intently, singing along and moving to the beat—and our Early Childhood classes build on those natural instincts to develop and deepen enjoyment of music.
Music and Movement Classes
Early Childhood classes support the development of children's minds and bodies through an approach known as Dalcroze Eurhythmics. Classes are held weekly, incorporating games and exercises to stimulate the senses, feed curiosity and foster love and appreciation of music. Singing, movement, small percussion instruments, colorful balls, hoops, scarves and puppets make the classes lively, fun and engaging for even the youngest children, and helps them to develop:
Keen inner hearing
Rhythmic sensibility
Sensory processing
Focus
Spatial awareness
Fine and gross motor skills
Social skills
Sharing and working together
HOW TO REGISTER
Enrollment for most early childhood classes is ongoing throughout the year, and tuition is pro-rated based upon time of enrollment.

Go to our Registration Site.
Children aged 9 months to 3 years attend classes with a parent or caregiver, who also participates in the fun—a joyful bonding experience!
---
Child-only classes are open to students aged 3 and up who are ready to attend music classes independently.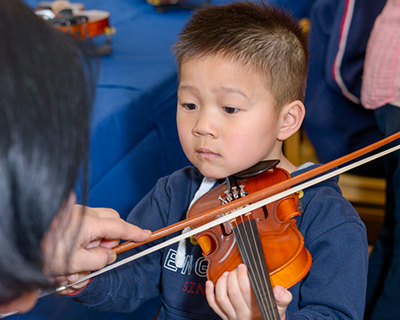 Children ages 3 and up may take the first steps in learning to play an instrument in our hands-on First Instrument and Pre-Suzuki Classes. Designed to prepare children for private instruction, these small group offerings in piano, violin, cello, flute, and guitar introduce the joy of making music with others while teaching basic playing technique, and developing foundational musical concepts including rhythm, pitch, and musical expression.
Before selecting their first instrument, children can learn about the different families of instruments by enrolling in our introductory class, Getting to Know You: Exploring the Instruments. This class invites professional musicians into the classroom to demonstrate instruments in the wind, string and percussion families.
Learn more about our available programs by calling us at 914-723-1169 or request a welcome visit.