Music Classes for Babies, Toddlers, Pre-Schoolers & Kindergarteners
Most young children naturally respond to music. With spontaneous delight, they listen intently, sing along, and move to the beat.
At Hoff-Barthelson, our teachers build on these early inclinations, guiding the development of music-making skills while instilling a deep enjoyment of music. Dalcroze Eurhythmics, a renowned teaching method that pairs music and movement is the basis for our music classes for babies and toddlers. The Dalcroze method fosters the development of mind and body in young children, and we are proud that Hoff-Barthelson is known for one of the largest faculties of Dalcroze-trained and certified teachers in the United States.
Weekly classes for preschoolers incorporate exercises and games that involve singing, moving, improvising, and using small percussion instruments to promote keen inner hearing and rhythmic sensitivity.
Appealing, colorful materials such as balls, hoops, scarves, and puppets inspire learning activities and appeal to the imagination. Even the very youngest children develop focus, spatial awareness, fine and gross motor skills, social skills, and the ability to work with others—all while having fun together.
Music Classes for Babies and Toddlers include…
The youngest students (9 months to 3 years) start with parent-child classes, where a joyful bond grows between children and their adult caregivers as they sing together, listen, and move with the music.
---
Beginning at age 3, we offer a variety of music and movement classes for children who enjoy attending music class independently. A special transitional class prepares children to move from the parent-child class format to the child-only class format.
---
---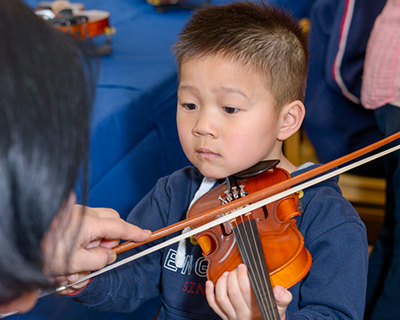 Older 3-year-olds through kindergarten students may take the first steps in learning to play an instrument in hands-on classes and Suzuki lessons. Group lessons in recorder introduce the joy of making music with others while teaching basic musical concepts and note reading. In an enjoyable hands-on ukulele class, children begin learning to read music, explore chords and strumming technique, and add their voices to sing along. We encourage them to continue
on to study guitar, mandolin, and other string instruments. Three- and four-year olds and their grown-ups explore instrumental study through singing, movement activities, and an introduction to music notation. They begin with foam violins (Foamalins) and graduate to child-size violins, taking their first steps in violin position and playing.