We are pleased to announce that Hoff-Barthelson Music School will offer Summer Lessons both in-person and online.
Summer Lessons may begin immediately after the last day of the Spring Semester, per the schedule below.
The Case for Continuity: Why Summer Lessons Matter
Summer learning loss – the erosion of skills gained over an entire school year that results from setting aside one's musical studies over the summer – is one of the music educators' most troublesome foes. On average, students who step away from their musical studies over the 12-week summer vacation season lose 2 ½ months of hard-won gains, often catching back up to their level of playing in June in late November. 
On the other hand, students who continue to practice and attend lessons over the summer continue to build their skills enjoying considerable advantages as a result. 
Here at Hoff-Barthelson, we recommend that all students continue their lessons over the summer holidays, ideally for a minimum of 6 to 8 weeks, while limiting breaks in practice and lessons to one or two weeks, three weeks maximum. Taking time off is vital too, as it provides the opportunity to refresh and recharge. Valuable perspective can be gained by stepping away — just don't step away too long! 
Because summer is a season of recreation, travel, and new adventures for students and teachers alike, Hoff-Barthelson's Summer Lesson program is designed to allow for maximum flexibility. Teachers set their own schedules, as do families. Students may register for as few or as many lessons as they like. Some students opt to schedule two lessons a week; others schedule lessons every other week; travel schedules are accommodated; and lessons may take place on campus, online, or both. 
Performance Workshops, Recitals and Accompaniment Service Included
Summer Lesson students enjoy opportunities to participate in performance workshops and recitals at no extra charge. In-person accompaniment service will also be available Monday – Thursday between the hours of 2:15 and 8:00 pm, and on Fridays between 2:15 and 4:00 pm, subject to demand. Online students who register for four or more lessons may request recordings of the accompaniment for the works they're studying. 
While many faculty members will be offering both in-person and online lessons, some are able to offer just one option, and others' availability can be limited due to professional commitments during the summer. Not all HBMS faculty members teach during the summer and hours often differ for those who do. 
For these reasons, speaking with your or your child's teacher about their availability is the first step in the registration process—past experience has demonstrated this to be the most efficient approach. 
Your completed Summer Lesson Request Form must be received at least 10 days prior to your first lesson. The registration fee and tuition must be paid in advance as well. 
Current Students
Consult with your private lesson teacher regarding their availability for Summer Lessons, in-person, online or both. In the event your teacher is 

not

 available this summer, please contact our registration team at

summerlessons@hbms.org

or 

914-723-1169

 so that we may assist with placing you or your child with another HBMS faculty member for the summer.

Complete the

 

Summer Lesson Request Form

 to the best of your ability. We understand that many schedules are still in flux; at this stage, we simply need to know your general availability and preferences. Provide as much detail as you can but be assured that you'll have a chance to amend and revise your schedule before Summer Lessons begin and any payment is due.

 


 

Upon receipt of your completed Request Form, a member of our registration team will confer with your teacher and build a draft schedule for your review. Please allow us a week to

10 days

to complete this step.

 

Once you have approved the schedule, we will send you a link with instructions for paying your registration fee and tuition online.

 

Paying your registration fee and tuition in full completes the registration process: your lessons may now begin!

 
Students New to the School and Students Returning After a Break
We take great care to assess each new and returning student's particular interests and needs before matching them with a private lesson teacher, thus the first step for interested students and families is to contact summerlessons@hbms.org or call us at 914-723-1169. Once we've matched you with your teacher, we'll then assist you with the registration process. 
Online Lesson Hours
Online Summer Lessons may be conducted at any time that is mutually convenient to the teacher and student beginning May 25 and ending August 31, (including weekends). Staff support will only be available during the School's regular administrative office hours, Monday – Friday 9:00 am – 5:00 pm. Please note that administrative offices will close at 1:00 pm on Fridays from June 30 – July 28. 
In-Person Lessons Hours
In-person lessons will be offered Monday through Thursday from 2:15-9:00 pm and on Fridays from 2:15-4:00 pm, starting on the following dates: 
Monday, June 26

Tuesday, May 30

Wednesday, May 31

 

Thursday, May 25

 

Friday, June 16

 
The last day for in-person lessons is Friday, August 4. 
The last day for online lessons is Thursday, August 31. 
Tuition and Registration Fees
A discount of 5% is available when purchasing packages of four or more lessons per student with a single teacher and an 8% discount on packages of 6 or more lessons per student with a single teacher. 
While Summer Lesson tuition doesn't include classes and ensembles, interested students entering grades 1 – 12 this fall are encouraged to consider enrolling in our Summer Arts Program. 
HBMS 2023 Summer Lesson Prices per lesson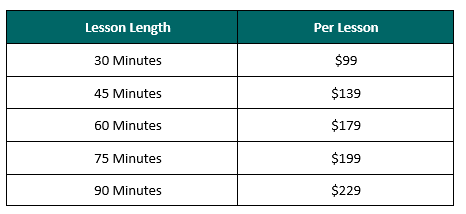 Registration Fee
$25 per student. You may add more lessons throughout the summer without incurring additional registration fees, unless the student is adding an additional instrument. 
We are pleased to announce that Hoff-Barthelson Music School will offer a Summer Arts Program for students entering 1st – 12th Grade in September.