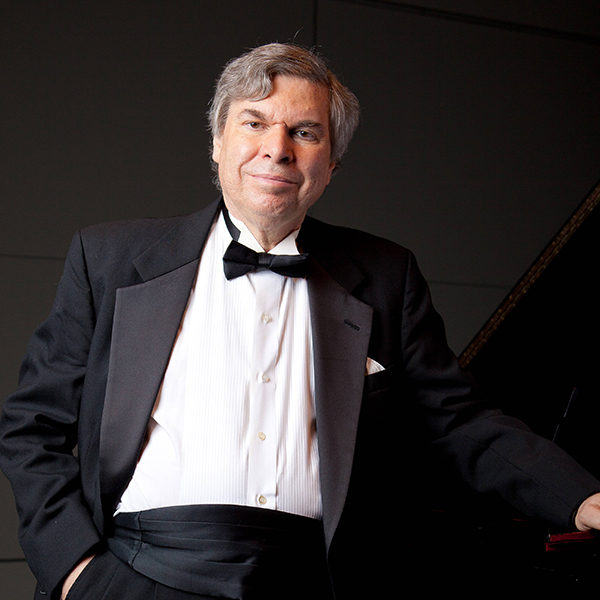 Instruments
Piano
Area of Study
Chamber Music , Private Lessons
Career Highlights
B.M., M.M. University of Southern California
Pianist Gerald Robbins has distinguished himself internationally as a soloist and chamber musician who has performed throughout the world in virtually every major music center, and with most major orchestras, including New York, London, Paris, Amsterdam, Bonn, Munich, Athens, Frankfurt, St. Petersburg, Belgrade, Tel Aviv, Jerusalem, Rio de Janeiro, and Tokyo. In November 2016, Mr. Robbins was a recipient of Armstrong Chamber Concerts' Lifetime Achievement Award with the following dedication.
A champion of neglected romantic repertoire, Gerald Robbins has received critical acclaim for his solo recordings. His world premiere Genesis recordings of Litolff and Reinecke concerti, performed in collaboration with the Monte Carlo Opera Orchestra elicited such praise as "Gerald Robbins's technical prowess is phenomenal", "a keyboard voice of true eloquence", "a first-class bravura performance."
Mr. Robbins is a distinguished chamber musician who collaborates with many eminent musicians throughout the world. He is a co-founder with Glenn Dicterow of the Lyric Piano Quartet, and is an accomplished conductor and co-founder with Kenneth Klein, of the Westside Symphony Orchestra of Los Angeles now known as the Beverly Hills Symphony. He was a co-founder of the London Concertante, an ensemble that specialized in 18th and 19th century concerto repertoire. He often appears as a guest artist on the Bargemusic series in Brooklyn, and as a guest artist with members of the New York Philharmonic at Lincoln Center in their celebrated chamber music series.
Mr. Robbins has received many important awards, including a major prize at the Van Cliburn International Piano Competition.
View a testimonial from an HBMS graduate here.