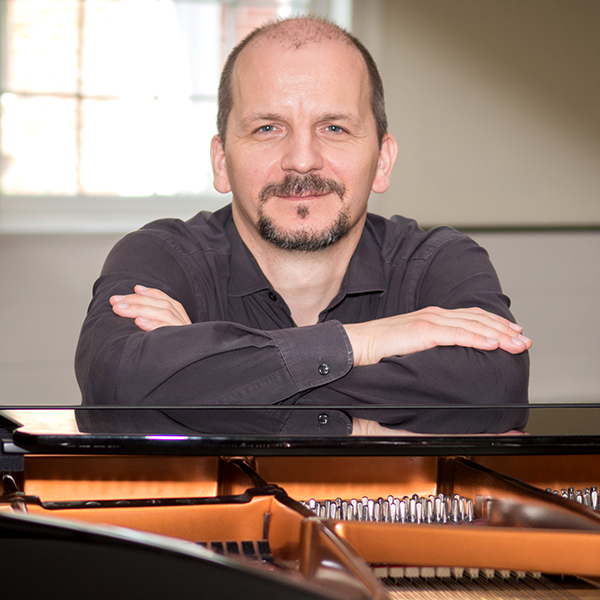 Instruments
Piano , Suzuki Piano
Area of Study
Private Lessons
Career Highlights
Professional Studies in Accompaniment
Master of Music in Piano Performance and Education, Moscow State Tchaikovsky Conservatory
Bachelor of Music in Piano Performance, Moscow State Tchaikovsky Conservatory
Suzuki Piano Teacher Training with Marina Obukovsky, School for Strings
Diller-Quaile Piano Pedagogy Course with Steven Graff and Claudia Knaffo
Maxim Pakhomov, pianist and organist, originally from the Far East region of Russia, completed his studies at the Moscow State Conservatory. Mr. Pakhomov has appeared throughout Russia and has toured England, Scotland, Austria and Estonia in both solo and chamber music concerts. His American credits include performances in Merkin Hall and Zankel Hall where he premiered his own arrangement of Stravinsky's Petrushka for piano duo. He also performed in Oklahoma, Washington, Minnesota, New Mexico, and Pennsylvania with violinist Linda Rosenthal on tours organized by Piatigorsky Foundation, and participated in the Jazz and Classics Festival in Juno, Alaska with Russian violinist Roman Kim. For 15 years he was the principal pianist of the Bronx Opera Company.
As a faculty member of the Chamber Music Institute in Orono, Maine, he performed with Japanese star violinist Ryu Goto as well as with the concertmaster of Saint Paul Chamber Orchestra, Francisco Fullana. His solo performances include piano concertos by Rachmaninoff, Tchaikovsky, Saint-Saëns, Brahms, and Beethoven with the Orchestra of The Bronx, Beethoven's Concerto No.4 with the Orchestra of the Barge Music Festival, the Triple concerto with the Bronx Symphony, Brahms' Piano Concerto No. 2 and Shostakovich No.1 with the Staten Island Philharmonia, Bach's D Minor Concerto with The Bach Festival Small Orchestra of the Lautreamont Concert Series and The Beethoven Choral Fantasy with One World Symphony.
Mr. Pakhomov is a three times winner of the Bronx Council on The Arts' BRIO Award (Bronx Recognizes Its Own). In July of 2018 he performed Chopin Concerto no.2 with the Orchestra of CMI in Kyoto and Tokyo, Japan. He is also an organist in the Congregational church in Darien Connecticut – playing organ and learning organ repertoire have been his passion for last 10 years.