The Spector Trio
Siblings Emily, Asher (HBMS class of 2017) and Benjamin (HMBS class of 2018) from Pelham Manor, NY, studied at Hoff-Barthelson from 2003 through 2017/18, and continue to take virtual lessons from time to time at the School. They all attended Horace Mann High School. Asher and Emily both did their undergraduate work at Harvard, and Ben is a student at M.I.T.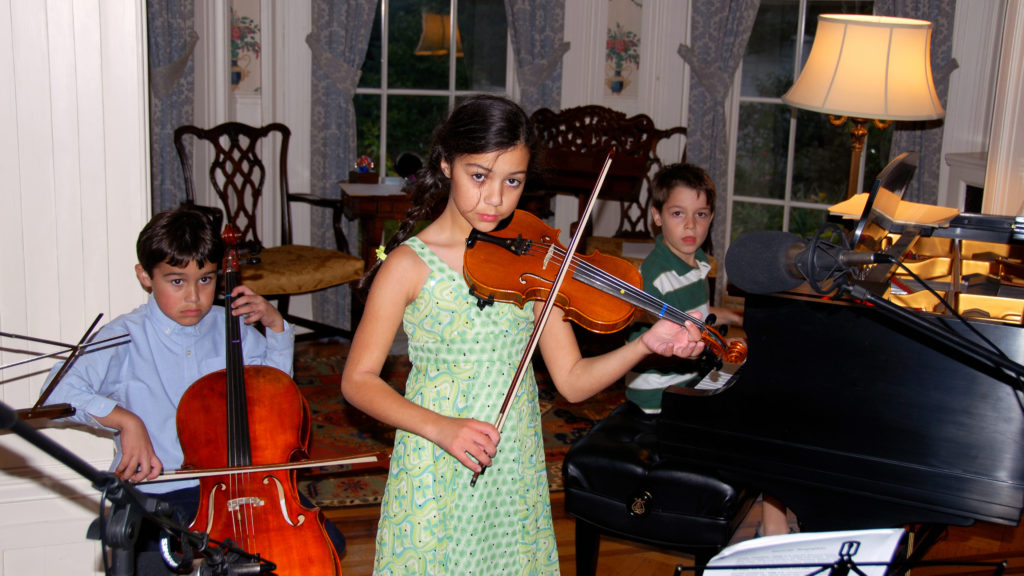 Let's get the basics out of the way; give us your quick Hoff-Barthelson resume. What did you study and who did you study with?
Emily: I started violin at Hoff-Barthelson when I was four in the Suzuki program, taking private lessons with Mark Kushnir, group classes with Barbara Berg, and Eurhythmics. After a year, I started lessons with April Johnson, who has been my violin teacher ever since. As I matured as a musician, the music theory component of my education grew, and my brothers and I spent several years as theory students of the late Edmund Niemann, whose teaching has been extremely impactful on our music study ever since. I also took guitar lessons with Peter Press for six years, studied jazz with Ed Palermo through middle and high school, and played and sang in rock and jazz bands for three years in Hoff-Barthelson's Summers Arts Program, where I later worked as a counselor and teaching assistant.
Asher: I started at Hoff-Barthelson the following year, when I was five, taking piano lessons with Mr. Oldrich Teply, who was my piano teacher for my entire thirteen years at HB. I also studied flute with Donna Elaine starting the summer after 5th grade and attended Summer Arts in my elementary and middle school years.
Ben: I started the same year as Asher, taking Eurhythmics classes. When I was four, I chose cello as my instrument, though I didn't realize at the time that I was completing the family trio! Nicole Johnson was my primary cello teacher and musical mentor for 13 years. I also studied with Peter Seidenberg during summers when Nicole was away. I'm really grateful for both of them — they helped me to develop my playing and experiment with different approaches to the instrument.
Additionally, all three Spectors took composition and music theory classes through the AP level, participated in Compose Yourself, Contemporary Festival, and Baroque and Beyond Festivals, Master Classes, and took advantage of many other coaching performance opportunities. They each played in chamber ensembles starting in late elementary school, eventually decided to play together, coached as a piano trio initially by Peggy Klinger and for four years by Tomoko Uchino. Emily and Asher graduated from Hoff-Barthelson's Honors Program, and Emily played in Hoff-Barthelson's Festival Orchestra for five years. In college, the Spectors continued to perform as a trio, receiving coaching together in the New England Conservatory's Continuing Education Program.
How do you think studying music at Hoff-Barthelson impacted your personal development?
Ben: I think there are two parts to this question: how does studying music for 12+ years change you as a person, and how did the unique experience of studying at Hoff-Barthelson amplify this? Regarding the first part, spending many years studying music anywhere teaches you discipline, concentration, patience, and how to collaborate. These are skills that are important in many areas of academics and they're the building blocks of leadership in any endeavor. In particular, the skills that one learns in solo, chamber, and orchestras have a coincidentally perfect mapping onto the processes of independent work, the combination of leading and following which makes up successful teamwork, and working effectively within a larger organization. This isn't surface-level, either — the connections go deep.
Emily: I'll speak to the second part of the equation. Spending several days a week at Hoff-Barthelson for the entirety of our childhood and adolescence absolutely played a large role in who we've become. My love of music is one obvious result, but I value the relationships I built at Hoff-Barthelson just as much. The people at Hoff-Barthelson became a second family. My violin instructor, April, has known me at every phase of my life; she's more than just a teacher. From a practical standpoint, I learned that being part of a community such as Hoff-Barthelson's is essential to sticking with an instrument and making progress. Because of the community, I wanted to play in an orchestra. I wanted to play in a chamber group. The significance of being surrounded by peers with the same musical goals and values as you can't be overstated; the social reward of cooperating in that environment is an extrinsic reward that kids need, on top of the intrinsic joy of learning.
Asher: Much of what I learned at Hoff-Barthelson was self-awareness about how I find motivation. Even though I was working hard to improve my musical abilities, the environment at Hoff-Barthelson provided a respite from the competition and stress in other areas. My closest relationships with adults, aside from my parents, were absolutely with my Hoff-Barthelson teachers, by a mile. Plus playing music with the other students was a blast. Going to Hoff-Barthelson was the most fun part of my day. The Hoff-Barthelson model of collaboration worked for me. I never became burned out. Some people respond well to a hyper-competitive environment, but working together and building relationships are what motivated me. I found it supportive rather than punitive or threatening. Hoff-Barthelson has structure, there is a progression of skills they help you build in order to improve technique and play progressively more interesting and complicated music, but it didn't feel structured. It just felt like it was time for me to have fun.
Emily: I agree with Asher. Hoff-Barthelson's teaching is rigorous, but the environment is supportive rather than intensely competitive. Part of that comes from the Performance Program that demonstrates the life cycle to being at Hoff-Barthelson. Everyone regularly performs in recitals with students of every age and level. When I was in elementary school, I'd hear the big kids play at the end of the recitals. I'd experience interesting pieces and would ask my teachers what I needed to learn to play those pieces. I wanted to become that older kid. The Performance Program made the trajectory to do that obvious. Then when I was older, I knew the younger kids were watching me. It was gratifying to give back to the younger kids what I had when I was growing up.
Your Hoff-Barthelson teachers have obviously been an influential part of your life. Can you elaborate on that?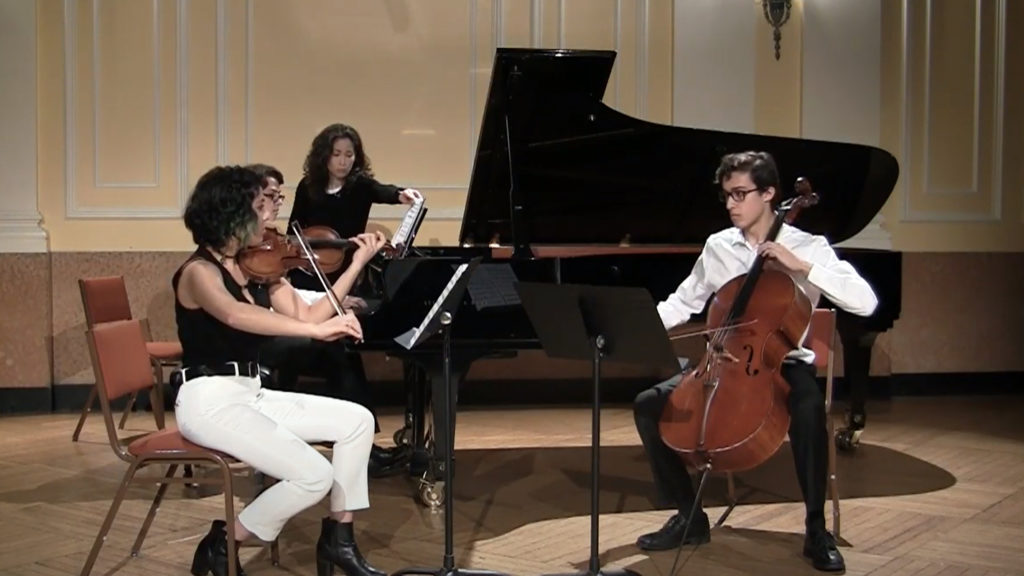 Asher: The Hoff-Barthelson teachers are some of the kindest people that I've ever met. I started working with Mr. Teply when I was five years old. I was initially scared of something going wrong or making a mistake, but he was incredibly patient with me and nurturing in a way that both gave me self-confidence and made me love music. Later, when I started with Miss Elaine, I couldn't make a sound on the flute for weeks, but she was so warm and encouraging that I couldn't help but love our lessons. More broadly, the teachers at Hoff-Barthelson were all remarkably good at determining what I needed, and at the same time listening to what I wanted. They helped me refine my goals, incorporating the technical skills I wanted to achieve, while also considering what my school coursework and other extracurricular activities allowed for time in any given semester. I find it incredible how adept they were at working with me at every age, adjusting their teaching style as I got older and my abilities and interests changed.
Emily: In addition to our main instruments, Asher and I both added more instruments along the way. Asher added flute and I added guitar and voice for several years too. Hoff-Barthelson allows you to explore. There's a flexibility to indulge all your curiosities, adding depth and richness to your overall experience of music. Working with my teachers, I learned that being a music student can change the entire way you engage with the world. Every time you make music, or even hear music, you're solving a puzzle. How did the musicians make everything work together? How did they optimize the beauty of the piece? When you start learning music, it unlocks parts of the world that makes everything more interesting. When you're around other people who share that understanding, it expands the universe of meaning.
Benjamin: Unlike Emily and Asher, I've stuck with cello and cello alone for my whole life. Despite my siblings' claims of the additional flexibility that additional instruments can provide, I've yet to encounter the expressive limit of the cello. My relationship with my teacher Nicole Johnson especially was absolutely key to the development of both my technique and more importantly my sound. I also really appreciated that Hoff-Barthelson provided ample opportunities for workshops, classes, masterclasses, summer arts, and more. I would really emphasize that the community and the holistic approach that Hoff-Barthelson offers made an enormous difference in becoming not just a capable cellist, but an all-around musician — someone who can appreciate the theory and execution of Bach, Radiohead, and Hans Zimmer.
What was it like to live in a home where everyone plays an instrument?
Ben: Starting young was perhaps a key to our journey. When you're four or five years old, you don't know that there are other options. You learn to like to do things that the people around you seem to have fun doing. A lot of the friction goes away when a child is immersed in an environment. The music was always there in the house. Being a piano trio was fun for us. It became part of our identity. Our relationship and the fact that we all played and practiced was a substantial motivator.
Emily: It did help that our family environment was supportive. We all played instruments. Even our parents took adult music lessons at Hoff-Barthelson. My mom actually started taking violin lessons herself so she could better help me practice. What an indicator of devotion! With that kind of support it was a no-brainer that music became important to us. It's just what our family did.
Was music the main thing you did after school?
Emily: We were definitely at Hoff-Barthelson a lot, but it was not our only activity. We all did other things as well, a bit of Hebrew school and some sports. Asher became a competitive debater in high school. I was the one that had the greatest focus on music while we were at Hoff-Barthelson. There was a time I thought I might pursue it professionally.
Ben: I like that Hoff-Barthelson can meet you where you are as a musician. Emily wanted to be a professional musician, but I always knew I would be an engineer of some sort. I did science and engineering as well as music. I appreciate that Hoff-Barthelson teachers understand that music can be an important part of everyone's life, regardless of their career. One thing I've really admired about Hoff-Barthelson is that there are so many different levels of participation. If you want to constantly progress and constantly be evaluated and judged, you can have that, but there are lots of options. You can go into the Honors Program as Asher and Emily did, if that's what you want. I did not go that route even though cello remains an important part of my life. Everyone at Hoff-Barthelson loves to play and progress, but you're not required to have music as your absolute top priority.
Emily: I think that awareness at Hoff-Barthelson creates a much more vibrant community and gave me a better perspective on different ways that music can be integrated into your life forever, even if you don't have a career in music.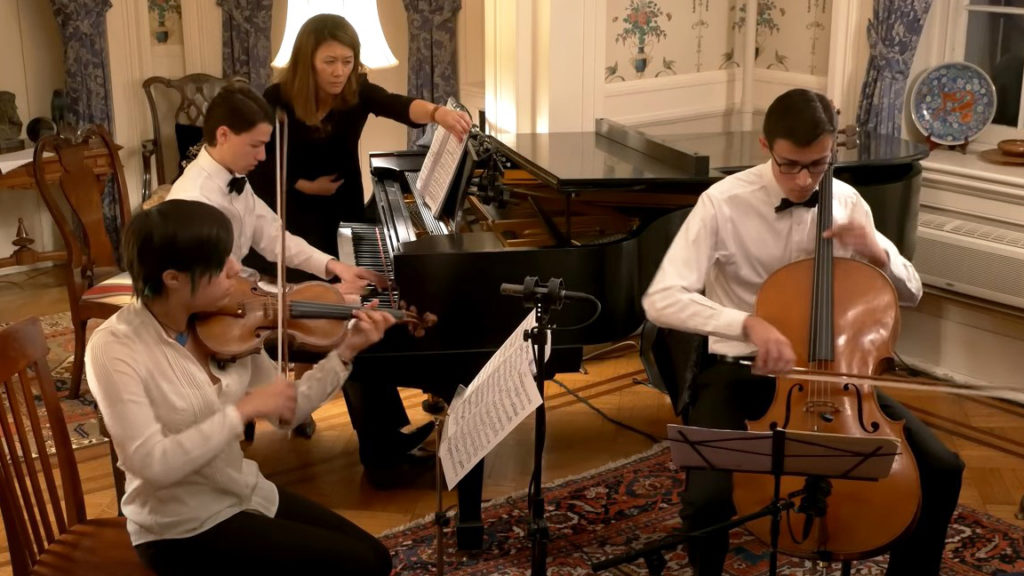 Now with COVID, public performances are rare. Do you miss performing for an audience?
Emily: I miss performing as a group with ensembles and in an orchestra. I enjoy working toward a goal of fine tuning and polishing a piece. But the part of performing that I'm most craving is that otherworldly feeling of being in the middle of an orchestra. When you're in the middle of a group of musicians, you hear the music in a different way than you do in an audience or on a recording. It's like you're part of a living animal. Also, to Asher's point, one of the most valuable life skills I learned from music lessons is knowing how to practice something. I know how to be comfortable with the idea of commitment and very (sometimes very, very) slow progress and at the same time having faith in the fact that, if you keep doing this, you can improve. Music study teaches you a progression mindset that's relevant to helping you learn anything difficult.
Asher: When I first started playing piano, I was afraid to perform, but I really enjoy it now and miss playing for an audience. Playing in Hoff-Barthelson recitals from an early age taught me how to have a stage face. I learned that the people in the crowd are rooting for you; people want you to succeed. That's been incredibly important to me. I now feel the same confidence getting up to talk to a class or in an academic presentation that I learned to have with musical performance. That's one of many ways that Hoff-Barthelson has been foundational for almost every aspect of my life. For example, one summer when I worked in a lab, I had to do some very precise, somewhat boring, tasks. This was made immeasurably easier because I had done so much disciplined practicing of instruments. I had developed the patience to keep attention to repetitive work and to see its place in a larger project.
Ben: Musicians love playing, making music, and having fun with each other; the audience is mostly incidental for me. That said, I've continued to take lessons at the New England Conservatory since coming to MIT and consequently have had significant performance and workshop opportunities even through the pandemic. Actually, the pandemic was overall quite good for my cello — I had a lot of fun playing everything from Elgar to Piazzolla.
How is your musical collaboration today?
Asher: We always play together for fun when we're home which, unfortunately, is becoming rarer as we get older. Pre-COVID we studied chamber music as a trio with Ben's college cello teacher Carol Ou at the New England Conservatory of Music, which we could do because we were all in the same city for college. But the pandemic has made it difficult to get access to pianos on campus, there are also social distancing rules, and our schedules have changed.
Emily: We haven't played trio together, publicly, in over a year because COVID has taken us in different directions earlier than we might have planned. I consider the time missed that we could have been playing together a big loss.
What's next on your agenda?
Asher: I'm finishing at Harvard and then I'll be working on a PhD in statistics at Stanford. The statistical methods I'm interested in are relevant to things like genetics and biological applications. I'm also interested in game theory. And of course, I listen to music all the time. It's such a great stress relief. I cycle through different artists and genres. I went through a big Romantics phase. I love how "angsty" they were!
Emily: I took a gap year because of the pandemic and spent the past year working at Shure (an audio technology company), so I have one more year at Harvard. I plan to return to the Harvard-Radcliffe Orchestra as a violinist and play in some chamber groups in Cambridge as soon as possible. In college and over the summers, I've spent time working in the music and media industries; I spent a summer working at New York's classical radio station WQXR and a summer at a record label in Nashville, and I regularly spend lots of time working on the Harvard College Radio Station. I do think I'll eventually go to business school, but I'm not quite sure when, yet. One area that I haven't explored to my heart's content is working in the outdoors, so I'll be guiding high schoolers in the Colorado Rocky Mountains this summer on backpacking, whitewater, and climbing trips.
Ben: I have a year left at M.I.T studying math and computer science. If it's safe to do so, I'd like to go back to playing in the MIT Symphony and in the MIT cello ensemble. I'm also working on the Dvorak B minor, and I'm hoping MIT will bring back the concerto competition as I'd love to try for that. After college, I'll either go get a PhD or try to start a company. TBD!