Samantha Kapner
Scarsdale resident Samantha Kapner, HBMS class of 2015, earned a B.A. in Elementary Education and Psychology with a minor in Flute Performance from Vanderbilt University. We caught up with her before she departed to Guyana for the Peace Corps.
Can you provide a brief overview of your experience at Hoff-Barthelson?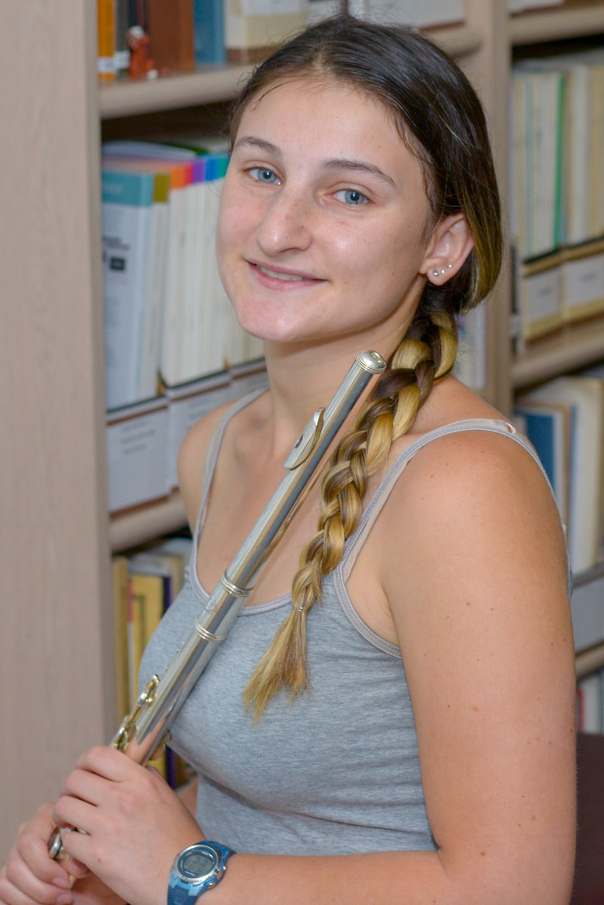 I started at Hoff-Barthelson in the Mommy and Me classes when I was three or four with Ruth Alperson and Yukiko Konishi. My mom Joan was a big influence for me as she played piano. I took recorder classes with Donna Elaine and then started piano with Oldrich Teply in first grade. I knew that I wanted an instrument of my own. With Ruth Alperson's guidance, I switched to flute in 4th grade and studied with Joe Piscitelli until I graduated. Joe was an exceptional teacher for me. He gave me the freedom to explore different kinds and styles of music. At Hoff-Barthelson, I had a chance to branch out and get involved in many different groups. I started in the Honors Program in 10th grade, played in Festival Orchestra and Wind Ensemble, and also took Jazz Ensemble with Ed Palermo. Joe and Ed both have adventurous teaching styles yet are extremely skilled at what they do. They make the learning of music extremely enjoyable.
How did you get interested in elementary education? Were you influenced by your experience at Hoff-Barthelson?
Yes, absolutely. I've always been interested in helping people from different backgrounds explore music. In summer of 11th and 12th grades and after my first year of college, I was able to teach at Hoff-Barthelson's Summer Arts program. Having the opportunity to work directly with the elementary school kids was a fantastic experience. It definitely helped nurture this interest.
Can you tell us about your undergraduate experience? Did HBMS prepare you for that next step?
I wanted to go to a school where I could major in elementary education and continue playing the flute. Vanderbilt was a perfect choice. Vanderbilt's Blair School of Music is a relatively small program so the intimacy and the community reminds me a lot of HB. Due to turnover, I had four different flute teachers at college. While I liked having different teachers, it made me appreciate the consistency at Hoff-Barthelson! In my freshman year, I started playing in the student organization orchestra and in my sophomore year was asked to take over as President. I had to learn the ropes quickly and recruit a faculty Music Director. The fact that I had done an internship at Hoff-Barthelson for my Senior Options at Scarsdale High School helped a lot.
It seems like you've figured out how to integrate music into your life wherever you may go.
Definitely! It's such an important part of who I am. As an education major I had the terrific experience of teaching Egyptian history in the Nashville public schools where I introduced the students to the various instruments used in Ancient Egypt. It made the history and ancient traditions come alive. I'll be carrying that along in the Peace Corps. I can't wait to learn and be immersed in the local music traditions in Guyana.