Laura Garwin
Laura is a professional trumpeter based in London. In addition to gigging with her brass quintet, Pentagon Brass, she is the principal trumpet of Covent Garden Sinfonia and St Paul's Sinfonia, and freelances with other London orchestras. Laura earned a B.A. from Harvard, was a Rhodes Scholar at Oxford, and has a Ph.D. from Cambridge. Laura worked in science journalism and research administration before deciding to pursue a career in music.
Tell us about your upbringing and your experiences as a student at Hoff-Barthelson.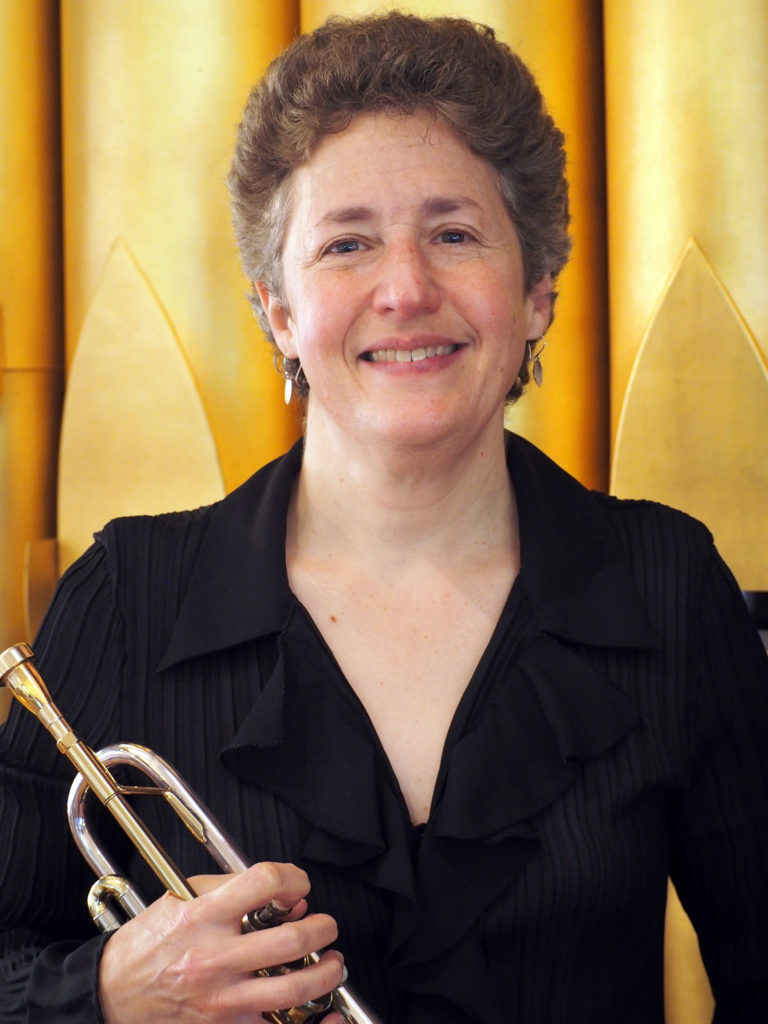 I was born in 1957 and grew up in Scarsdale. I have two older brothers, both of whom also studied at Hoff-Barthelson, one of whom played the trumpet for a while. Neither of my parents were musicians, but both thought that learning music was important. I started studying piano with Mary Helton on Old Army Road at age five or six and continued all the way through high school. Mary was everything you'd want in a teacher: demanding but in a good way. I was able to memorize easily so Mary gave me a new piece to learn virtually every week; I wanted only to play Bach and Mary indulged me. I took musicianship classes with Joyce and Virginia at the first site of the School at Spencer Place, in the center of the village near the train station. I also studied violin with Frances Magnes, but I remember thinking during my violin lessons, "Gee, this would sound nice on the trumpet."
While I didn't study trumpet privately at HB, I did play at Mary's church and in the pit for local musicals, and in the band and orchestra at school. I remember playing in recitals and for the HB Bach Festival (which became Baroque and Beyond) – lots of Bach inventions, a double keyboard concerto, and…an invention I wrote myself.
What came next after graduating from Hoff-Barthelson?
While I was at Hoff-Barthelson, I considered whether to go to college or a conservatory. I decided to pursue science as a career, with music as a hobby because pursuing science as a hobby doesn't provide the same kind of opportunities. I went to Harvard, played in the jazz band, concert band, marching band, Bach Society Orchestra, and in many shows. I was also a member of Harvard's first female a cappella group, the Radcliffe Pitches (there are many such groups today). I won a Rhodes Scholarship to study music at Oxford, but ended up studying geology there. (It's a long story, but at the time, it seemed like the Oxford music department thought of music as something to be seen and not heard!) After Oxford, I went to Cambridge for a Ph.D. and, while there, found myself mostly playing jazz. I then moved to London and found the amateur music scene to be fantastically rich. The amateur orchestras I was in at the time were playing Mahler symphonies, Messian's Turangalîla-Symphonie, Stravinsky's Rite of Spring, even Wagner's Ring Cycle. During this period, I worked for Nature, a job that eventually took me to Washington, DC, where I continued to play in amateur groups.
Next, I worked at Harvard, running a Systems Biology research center. While living in Cambridge (MA), I played in the Longwood Symphony, a ten-piece brass ensemble and other groups. I started taking lessons, and was seized by a desire to get better at the trumpet. But, with a demanding job, I was only able to practice something like an hour before work and an hour after work each day. Around this time, a close friend of mine died too young — sending me a powerful message that life is finite. This made me realize, "if there is something I want to do with my life, I should do it!"
And then?
Well, naturally at age 48, I applied to London's Royal College of Music, and started there in 2006! I devoted the next few years to improving my trumpet playing. Since graduating from the RCM in 2009, I've made my living as a professional freelance trumpeter. I love the unpredictability of the freelance life and the wide array of musical opportunities that it provides. I perform frequently (or did, before the COVID-19 pandemic) in orchestras, with my brass quintet (Pentagon Brass), in orchestra pits for opera, ballet and musicals, and every summer in the Festival Orchestra at the Dartington International Summer School. The very strong sight reading skills that Mary Helton first helped me develop in the 1960s serve me exceptionally well today in London's music scene, where many concerts are put together on just one rehearsal and yet performed at quite high levels of artistry.
Looking back, can you share with us what made your Hoff-Barthelson experience special?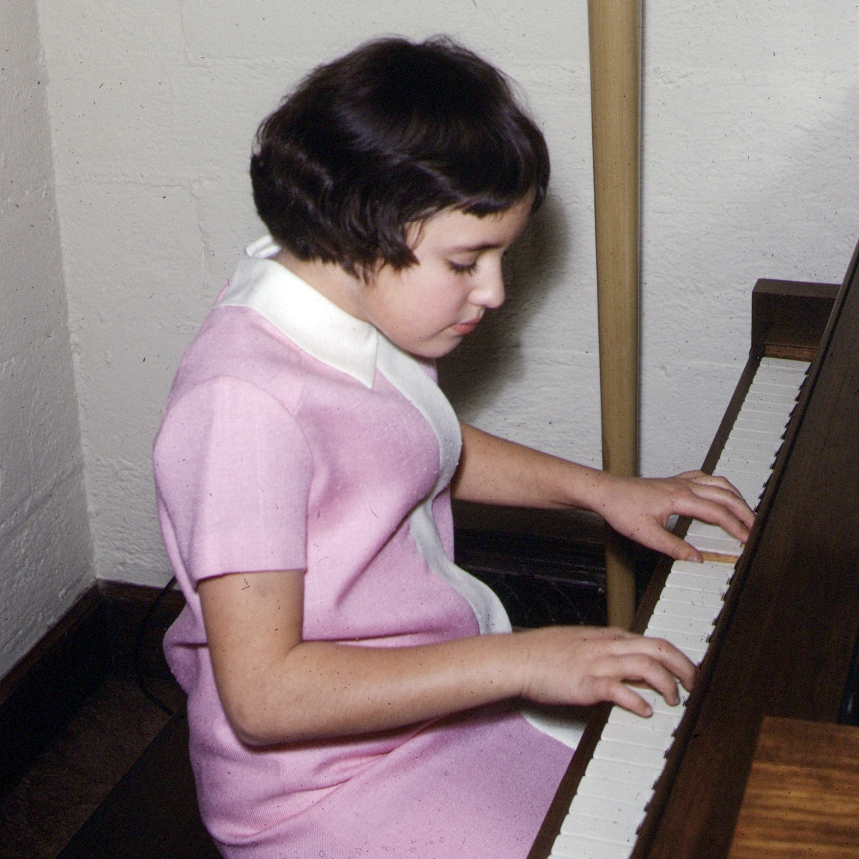 At Hoff-Barthelson, I experienced music as a team activity. This was even true for me as a piano student. Thanks to the School, my studies were never solitary. Of course, this translated to both performing and friendships; I made some really good friends at HB. Throughout my life I've found that that making music provides a way to connect and interact with other people. My life as a freelance musician in London provides opportunities to develop and maintain friendships with a vibrant network of people across London and throughout the UK.
Your career as a professional trumpeter is your second, perhaps even your third career. We're curious as to whether you feel your time at HB helped prepare you for your work in science and journalism?
I think there is a connection between music and science, in that both rely on pattern recognition. Musicians do this as they read scores or parts, and scientists as they look at data. It could be that my early musical studies at HB helped me in my science-related careers; certainly, the discipline that I learned as a young musician has come in handy over the years. Equally important, I think, is that music promotes a growth mindset: talent can be developed, and failure is not to be feared, but to be welcomed, as it leads to learning. When I was younger, I suffered significant performance anxiety, but with training and re-framing along these lines, I have been able to leave it behind!
Is there anything else that you'd like to share?
Playing "live" music is incredibly rewarding. Not only is it a privilege to be able to share music with audiences, it is pure pleasure to make music with friends and colleagues. This has been brought home to me this year as never before, when the opportunities to play in person with others have been (justifiably) severely limited. Lockdown music videos, as fun as they might be, are no substitute for the real thing! I hope that, before too long, live music will come roaring back, giving joy to appreciative audiences everywhere.