With an emphasis on safety, our doors are open for in-person instruction.
Register now!
From the earliest stages of proficiency, students are encouraged to join one or more of the School's ensembles and instrument clubs. Orchestral, choral, jazz, and chamber ensembles enrich and enliven music learning and provide the unique pleasure of performing with peers. Through their participation, students learn the value of collective effort and develop beneficial life skills such as shared leadership and teamwork. Each group performs periodically throughout the year. Ensembles are included in the price of our Comprehensive Program, and as an option for students in our Beginners Programs. Other students may enroll a la carte.
View detailed information about ensembles and clubs here.
VOCAL ENSEMBLES
Choral groups at Hoff-Barthelson provide opportunities for students to develop their musicianship, ensemble skills, and vocal talents, all while experiencing the joy of making music with others. Through our four-tiered choral program, vocal ensembles are available to K-12 students at all levels of advancement.
YOUTH ORCHESTRAS
Hoff-Barthelson is the only community music school in Westchester with a four-tiered youth orchestral pyramid, culminating in a full symphonic orchestra for high school students at the highest level of technical ability and musical artistry. Students hone their technical skills and musical sensibilities in Young People's Symphonette, Chamber Orchestra, and Wind Ensemble in preparation for membership in the audition-only Festival Orchestra.

Learn about auditioning for the Festival Orchestra here.
CHAMBER MUSIC
Hoff-Barthelson's Chamber Music Program provides opportunities for intermediate and advanced students to play together in trios, quartets, and quintets. Ensembles are composed of students matched by proficiency for maximum musical accomplishment.
JAZZ ENSEMBLES
Ensembles explore improvisation and performance techniques essential to jazz, rock, and a variety of music styles. Parts are individually tailored to the skill level of the participants. Sections are available for beginning, intermediate, and advanced players, ages 10 and up.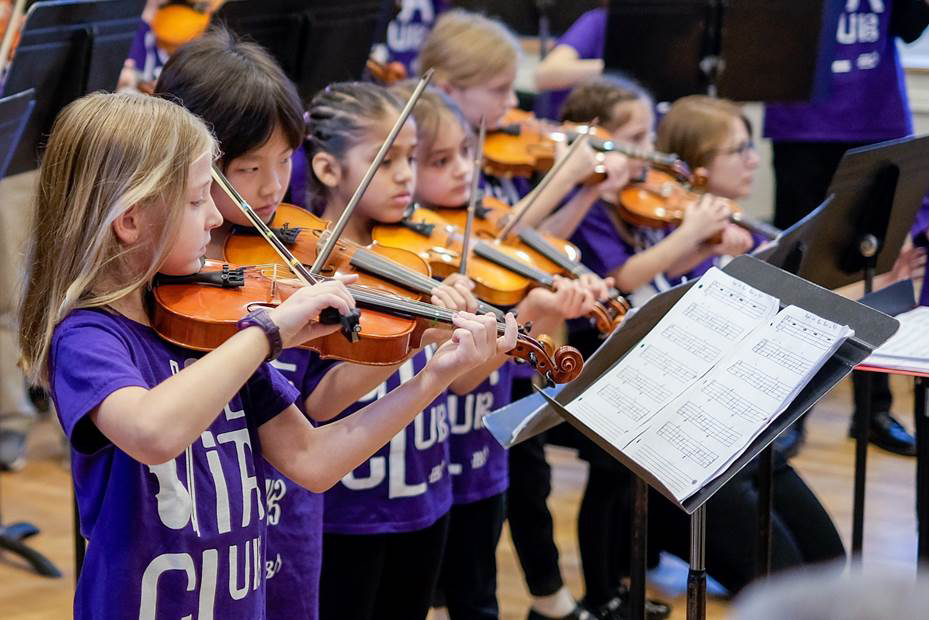 INSTRUMENT CLUBS
In popular weekly instrument clubs, students studying the same instrument or family of instruments play and perform together under the guidance of an experienced teacher. Through the Clarinet, Flute, and Viola Clubs, and The Westchester Double Reed Band, students of different ages and levels of advancement develop instrumental technique, explore core repertoire, and learn to mentor each other in their musical development. Clubs are open to all students looking for a supportive, social, high quality music learning experience, regardless of their primary instrument of study.
CHIMES AND HANDBELLS
Chime and handbell ensembles are ideal for students who enjoy learning concepts through a hands-on approach.
Have questions or want to register?

We take great care to assess each child's particular interests and needs before assigning teachers, classes, and ensembles. The first step is for you and your child(ren) to meet with one of our deans. This meeting is not an audition, but a welcoming introduction to the School and our individualized approach to music education.

To get started, schedule a placement meeting with one of our deans, or call 914-723-1169.

We look forward to hearing from you soon!