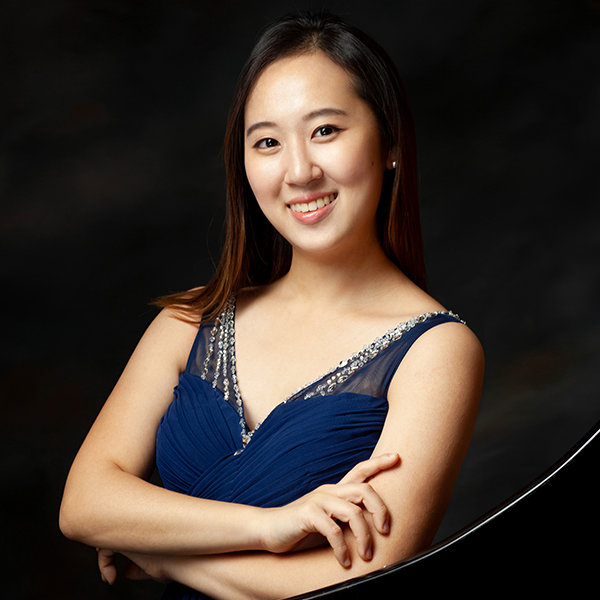 Instruments
Piano
Area of Study
Early Childhood Music Program , First Instrument Classes , Musicianship , Private Lessons
Career Highlights
D.M.A. Manhattan School of Music (in progress)
M.M. Manhattan School of Music
Artist Diploma Colburn Conservatory of Music
B.M. Seoul National University, cum laude
International prize winning pianist Sunhwa Kim is the 12th Seoul Student Award recipient for enhancing Korea's national prestige in the Seoul Metropolitan Office of Education as well as the 2021 Roy M. Rubinstein Award through the Manhattan School of Music. She is the winner of the New York Paderewski International Piano Competition, Yamaha Music Korea Scholarship Audition, the Korea Chopin Competition, the All-Japan Art International Competition, the International Chopin Piano Competition in Asia, and the Kerikeri International Piano Competition. She was a finalist and received the Honorable Mention Prize at the International Paderewski Piano Competition in Poland and the 20th Ile de France International Piano Competition. She had the opportunity to participate in the Interpretation Master Course at the European Krzysztof Penderecki Centre for Music. She has participated in numerous concerts such as the Yamaha Rising Artist Series and the Colburn Artist Series, performed with singers from the LA Opera Young Artists at the Steinway & Sons Gallery and has had many solo and chamber performances in the United States, France, New Zealand, South Korea, Japan, China, Singapore, Ireland, Scotland, Italy, and Poland.
She attended and performed at international music festivals such as the Dublin International Music Festival, Hamamatsu Piano Academy, New Paltz Piano Summer Academy, Euro Music Festival, Eumyeon Festival, International Music Festival, and Great Mountain Festival.
Sunhwa Kim is also a member of the Benefic Piano Trio, Grand Prize winner of the 2018 ENKOR International Music Competition, and Artists in Residence at the Benefic Chamber Festival. They recently released an album for the MSR classics label, premiering new works by a living composer, Daniel Carr.
They have performed at numerous venues, including Zipper, Thayer, and Mayman Halls, Ball State University, and the Debussy Hall in Lyon, France. The Trio has worked intensively with Colburn faculty members such as Fabio Bidini, Martin Beaver, and the legendary Arnold Steinhardt.
Sunhwa Kim has studied with such teachers as, Marc Silverman, Phillip Kawin, Fabio Bidini, Soojung Shin, Hyoungjoon Chang, Jinwoo Chung, Haejeon Lee, Choongmo Kang, and Sook-ryeon Park.
Sunhwa Kim is currently pursuing her doctoral degree at the Manhattan School of Music. She was a Teaching Assistant who taught required piano and elective piano for non-piano majors. She is an official Steinway Teacher and Educational Partner (STEP), and a Music Teachers National Association (MTNA) member.