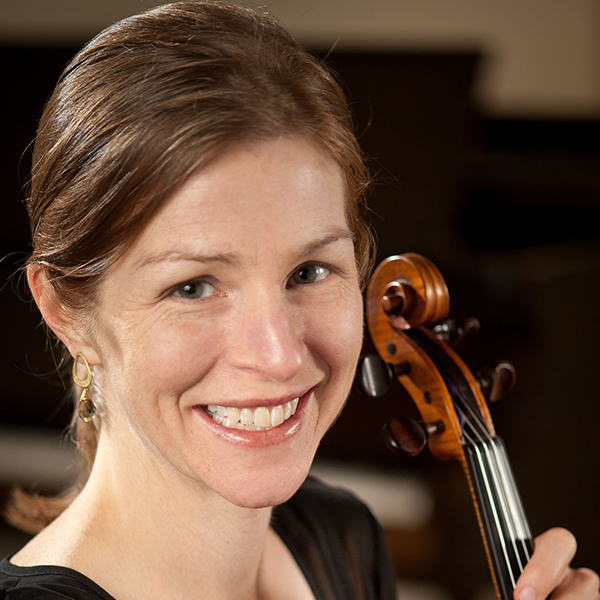 Instruments
Suzuki Violin , Violin
Area of Study
Chamber Music , Private Lessons , Workshop Leader
Career Highlights
B.M. Oberlin
Advanced studies at Brooklyn College Conservatory
April Johnson has been part of the Hoff-Barthelson Music School family for 30 years. She started her career as the Dean of the Mount Vernon Music Academy, a satellite of HBMS. She has since served on its Faculty Council, Faculty Committee, Friends Volunteer Committee and continued her robust teaching schedule as a member of the violin, Suzuki violin, and chamber music faculty.
As a violinist, Ms. Johnson has performed throughout the U.S. as soloist, chamber musician and orchestral freelancer. She has appeared as concertmaster with the NY Chamber Soloists Orchestra, Jupiter Symphony, the Galatea Ensemble, the Queens Oratorio Society and the Canton Symphony (OH). She has also performed with the Norwalk Symphony, the Ridgefield, Bridgeport, New Haven, Fairfield, Harrisburg Symphony Orchestras, and the Pennsylvania Philharmonia. She has recorded with Lyrichord, Dorian and Newport Classics labels. As a member of the New York Chamber Soloists, Solace Quartet and the Oracle Trio she has performed throughout North and South America.
Ms. Johnson received her Bachelor of Music degree with honors in violin performance from the Oberlin College Conservatory of Music. She continued her professional studies with Burton Kaplan, Joyce Robbins and with Masao Kawasaki and Itzhak Perlman of the Brooklyn College Conservatory.
She maintains a private violin teaching studio at her home. During the summer months she joins the Kinhaven Music School Adult Chamber Music Workshop faculty in Vermont.