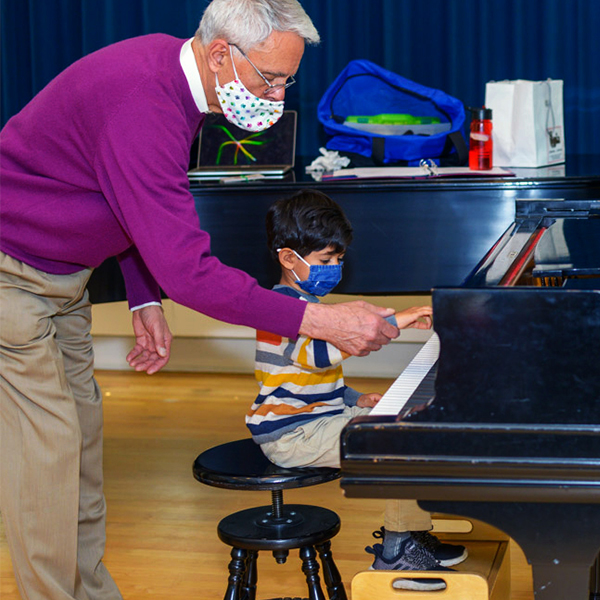 Before we say goodbye to the 2020-21 school year, we want to express our deep admiration and appreciation for our faculty. Today, more than ever, we extend our heartfelt gratitude to our teachers for all they do for our students and our community.
Hoff-Barthelson faculty members have gone above and beyond this year to continue to deliver music education of the highest standard. Whether it was on Zoom or Facetime, or in-person, with masks on and socially distanced, HBMS teachers found meaningful and productive ways to connect with students and guide and encourage their progress this year. Music materials were prepared for pick-up or emailed/texted. Videos were swapped between teachers and students to augment and reinforce learning. And beautiful virtual performances were live-streamed and recorded to be shared with friends and family near and far.
Please consider participating in our Faculty Appreciation Campaign by making a gift to honor a Hoff-Barthelson teacher or teachers that made a positive impact on your family this year. This year you may elect to direct your gift to The Ruth Alperson Fund for Excellence in Music Education to support outstanding programs and practices Ruth developed with faculty over her tenure. Through the generosity of the HB community, more than $181,000 has already been raised, and we've extended the campaign through June 30 to increase the Fund's goal to $200,000! 
All contributions will be gratefully acknowledged in our 2021-22 program guide and your generosity will be personally conveyed to each teacher that you honor. By helping to sustain HB's high standard of music education, you help every student advance a lifelong love of learning, performing, and sharing the joy of music.
Thank you for your generosity and support.
Please be sure to indicate your teacher's name in the add a note or special instructions section on the PayPal form. You may also specify "Ruth Alperson Fund" in the same section. By giving, you are supporting all students and teachers at HBMS.
HBMS is a 501(c)(3) organization. Donations are tax-deductible.