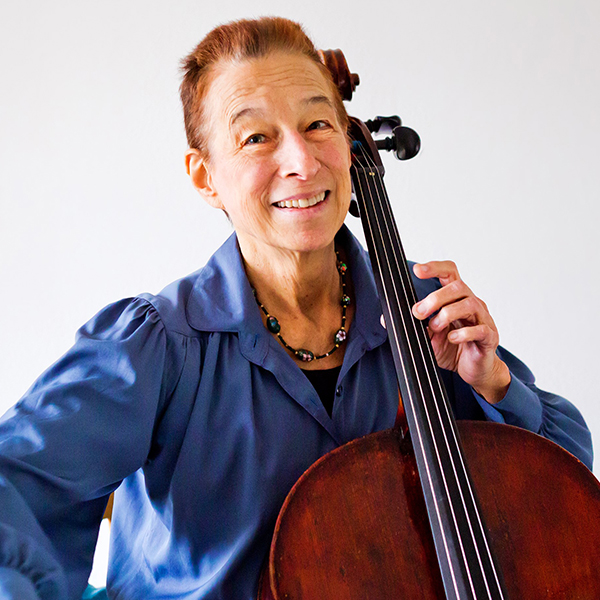 Instruments
Cello , Suzuki Cello
Area of Study
Chamber Music , Private Lessons
Career Highlights
B.M., M.M. Manhattan School of Music
Cellist Maxine Neuman's solo and chamber music career spans North and South America, Europe, Japan and China. A grant recipient from the Rockefeller and Ford Foundations and the National Endowment for the Arts and a three-time shared Grammy Award winner, her biography appears in Who's Who in the World.
She's a founding member of the Claremont Duo, Duo Cellissimo, the Crescent String Quartet and the Belmont Trio, groups with which she has traveled and recorded extensively. She can also be heard in such diverse settings as the Montreux Jazz Festival, films of Jim Jarmusch, with Metallica and the Ron Carter Jazz Nonet.
In New York, she is a member of Orchestra of St. Luke's, American Classical Orchestra, Westchester Philharmonic and the American Composers Orchestra. She has appeared as soloist before a sold-out audience in New York's Town Hall in the American premiere of Giovanni Battista Viotti's only cello concerto, and she recorded Schumann Cello Concerto in Count Esterhazy's historic palace in Austria.
She attended Manhattan School of Music where her principal teachers were Bernard Greenhouse and David Wells.
Distinguished as a teacher as well as performer, Maxine has served as a juror for numerous international competitions, and has taught at Bennington College, Williams College and C.W. Post University. Her cello is a J.B. Guadagnini, made in 1772.
---
"We truly appreciate Maxine's patience, persistence, and sensitivity that is inspired by a lifetime of teaching and music-making."
The Chin/Wang Family