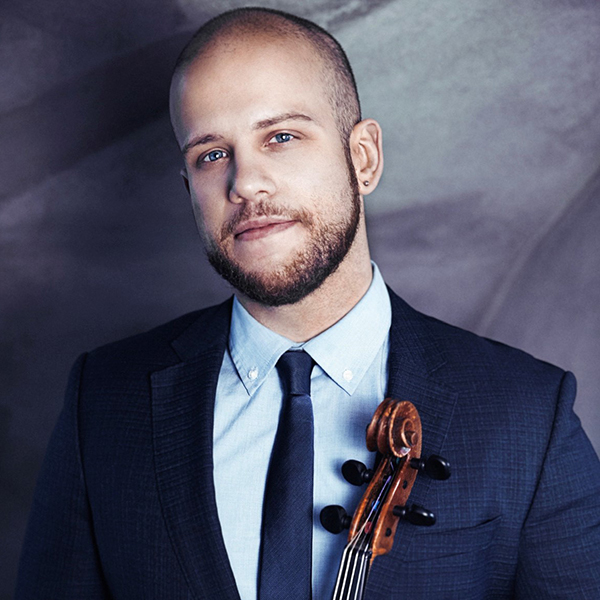 Instruments
Viola
Area of Study
Private Lessons
Career Highlights
Ensemble Connect, Carnegie Hall Fellowship
M.M. The Juilliard School
B.M. The Juilliard School
Hailed by the Strad Magazine for his "warm hearted playing and mellow tone," New York based violist Andrew Gonzalez lives a fulfilling career as both a soloist and chamber musician, performing in prestigious venues throughout the United States, as well as halls all over Asia and Europe. As a sought-after chamber musician, his playing has allowed him to collaborate with respected ensembles such as the Orpheus Chamber Orchestra, the Sejong Soloists, as well as members of the Guarneri, Juilliard, Tokyo, Orion, Borromeo, and Vermeer quartets. Also an accomplished teacher, Andrew served as a fellow of Carnegie Hall's 'Ensemble Connect' from 2016-2018 and teaches chamber music in the Heifetz Institute's 'Program for the Exceptionally Gifted. In the fall of 2020, Andrew became the new violist of the Jasper String Quartet.
Passionate about historical performance, Andrew Gonzalez frequently performs baroque viola and the violoncello da spalla. A student of Cynthia Roberts from the Juilliard 415 program, Andrew has performed in festivals and series such as the Washington Bach Consort, Valley of the Moon Music Festival, American Bach Soloists, the Boston Early Music Festival, Helicon, and many others. Andrew is one of the few people in the world who plays the Violoncello da Spalla, a five stringed mini cello that is played on the shoulder. In 2018, Andrew gave the New York City premiere of the entire sixth cello suite at Barge Music.
Originally from Chesapeake Virginia, Andrew Gonzalez attended the Governor's School where he was introduced to chamber music and symphonic music. This led to his affiliation with the Hampton Roads Chamber Players, an ensemble that he has since performed with and given masterclasses, as well as a concerto appearance with the Virginia Symphony. An avid orchestra player, Andrew performs frequently with the New York Philharmonic, New York City Ballet, Orchestra of Saint Lukes, Orpheus Chamber Orchestra, Philadelphia Chamber Orchestra, New York Classical Players, and Novus NY.
Andrew is on faculty at Temple University's precollege and teaches frequently at Kaplan JCC on the Palisades. This summer, Andrew looks forward to teaching chamber music at Saint Paul Chamber Music Institute as well the Valley of the Moon Music Festival.