VIEW THE 2021 VIRTUAL SPRING BENEFIT ON OUR YOUTUBE CHANNEL HERE AND SUBSCRIBE!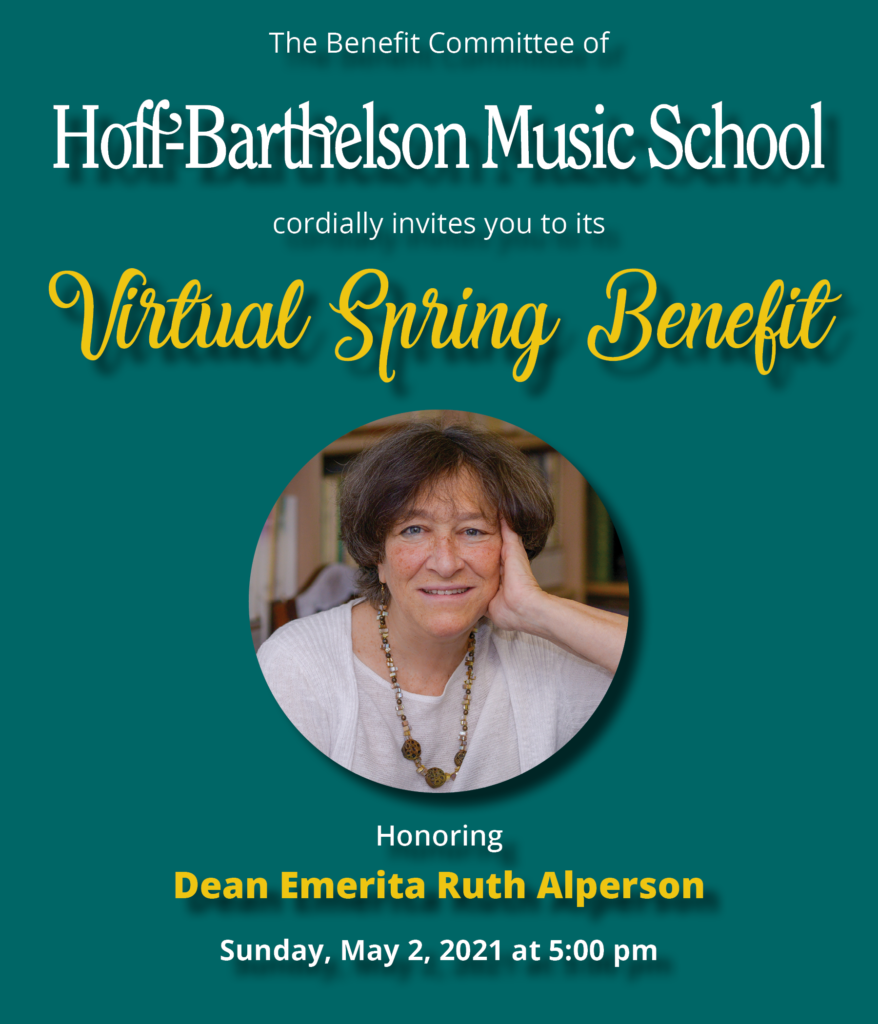 The 2021 Virtual Spring Benefit will be held on Sunday, May 2, 2021, at 5:00 pm and will honor and celebrate Dean Emerita Ruth Alperson for 42+ years of service as a cherished member of our faculty, including 21 years as Dean. To honor Ruth, the School has established The Ruth Alperson Fund for Excellence in Music Education to support outstanding programs and practices she has developed with faculty over her tenure.
Dr. Alperson is an alumna of Hoff-Barthelson, where she studied piano with Mary Helton. She holds a B.A. in Music from Oberlin College and a Ph.D. in Arts and Humanities from New York University. Ruth took courses in eurhythmics for two years at the Dalcroze School of Music in New York City; earned a Licentiate from the Dalcroze Teachers Training Course in London; and earned the Diplôme Supérieur from the L'Institut Jaques-Dalcroze in Geneva, Switzerland.
During her tenure as Dean at HBMS, she helped establish Hoff-Barthelson's Preschool, worked on curriculum design for younger musicians, served on the Financial Aid Committee, and taught Eurhythmics, Junior Voices and Parent/Child classes. Additionally, with the endorsement of L'Institut Jaques-Dalcroze in Geneva, Ruth established The Dalcroze Teacher Training Program at Hoff-Barthelson and ran the program for 20 years. We are delighted that she remains an active member of the HBMS faculty!
The virtual event will feature special appearances by HBMS student and faculty ensembles.
Funds raised for the 2021 Spring Benefit, a key component of our 75th Anniversary Campaign, will celebrate the School's impact on generations of students; speed the full restoration of programming impacted by the pandemic; and make possible our exciting vision for the future.
A pre-event slide show begins at 4:45 pm.
VIEW THE 2021 VIRTUAL SPRING BENEFIT ON OUR YOUTUBE CHANNEL HERE AND SUBSCRIBE!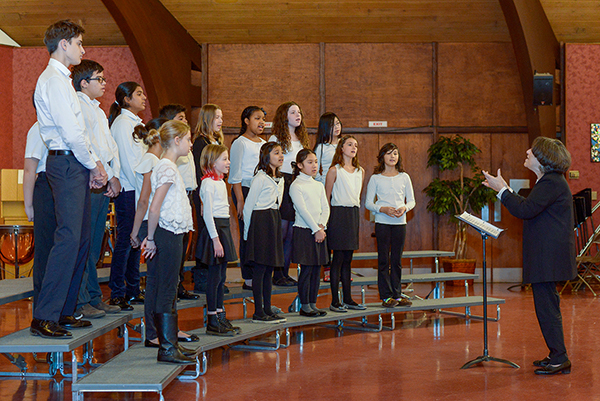 2021 Benefit Chairs
Janice and Ira Starr
2021 Host Committee
Gregory Barton and Janet Sikirica, Deborah Bers and Denis McInerney, Susan Boccardi and Marc Susswein, Sheela and Suresh Chari, Ken Cole, Stephanie and Alan Dean, Lynn and Michael DeLisio, Robert and Edan Dionne, Erin Foster and Jeffrey Blatt, Cathy Friedman and Thomas Feyer, Nancy and David Gavrin, Warren and Darlene Haber, Suzie Hahn, Dotti Lee Han and Victor Han, Janet Korins and Joseph Kaufman, Rhonda Kost and Alfred Spector, Barbara Mackey, Dana Matsushita and David Siegel, Rebecca May and Fernando Rivas, Diane and Steven Parrish, Sanjay and Sindhu Rajpal, Steven and Nancie Schnur, Edmund and Elaine Schroeder, Carolyn Zhu and Charles Shen